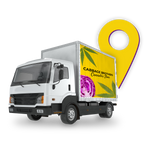 Pickup or Delivery Available!
Pre-order for pick-up
Place an order online - orders can be ready for pick-up in as little as 10 minutes

Same Day Delivery*
$10 flat delivery fee, free over $100 (pre-tax).


Learn More
*Delivery Available in: Dundas, Ancaster, Bayview, Greensville, Kirkendall, Westcliffe, West Flamborough, West Hamilton, Waterdown
Conveniently Located Near You.
Drop in or Drop off. We are ready to serve wherever you may be.