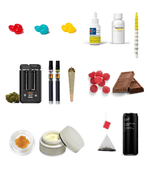 6 Cannabis Products You Didn't Know You Could Buy
Medical cannabis has come a long way since Canada officially legalized it back in 2001. In 2019, Canada allowed companies to launch new cannabis products which include edibles, beverages, topicals, concentrates, and vape cartridges.
In 2020, a study found nearly 50% of Canadians prefer ingesting cannabis over any other method, and producers of medical cannabis have been listening. Whether you prefer chocolate, vaporizers, drinks, concentrates, or topical creams, we've got everything you need to know below!
– This blog was written in April 2021, and product options may have changed at the time of reading.
Cannabis Infused Edibles
Do you prefer gummies, chocolates or beverages? Licensed Producers (LPs) who dispense medical cannabis are now offering more options to those with a medical cannabis prescription. This move by the Canadian government has been a step in the right direction by ensuring patients can take their medication the way they want to. 
Legal edibles available to both medical and recreational consumers have been capped at 10mg per package or dose by Health Canada which allows those that are new to cannabis to start with smaller doses as they learn their tolerance or effects on their bodies. 
Making sure the products you're purchasing comes from the legal market is important for the safety of our patients and those around them. Packaging must be child-resistant and plain visually so that it's not appealing to minors. The labeling must also have the THC symbol, a health warning message, the THC/CBD content, equivalent to dried cannabis for possession limits, ingredient lists, allergens, and the nutrition facts. It's also good to know that cannabis edibles will not have any added vitamins or minerals, nicotine, alcohol and there's a limit on caffeine. 
Patients who prefer taking edibles do so because of: 
Ease of use

Good taste/Flavour

Discreteness and portability 

No risk to the respiratory system  (unlike smoking cannabis)

It's simply an addition to their oils, capsules, and flower products
Cannabis Infused Chocolates
Infused cannabis chocolates are one of the first and most popular options when it comes to cannabis edibles. Licensed Producers offer chocolates with just CBD, a combination of THC and CBD, or just THC. Some LPs have teamed up with renowned chocolate makers and companies to ensure the highest quality products are available for patients. Whether you prefer milk over dark chocolate or sativa over indica dominant strains, there are plenty of delicious options to choose from. The introduction of edibles has been great not only for patients but local economies as LPs begin to bring old chocolate factories back to life in smaller communities.

Chocolate bars are now available as one, two, four, or five pieces from LPs. Each bar has different strengths, so make sure to read the packaging and dosing on the product to ensure you don't take more than you need. Start low and go slow with all edibles. 
Cannabis Infused Gummies
Cannabis infused gummies or soft chews offer another option for your medical cannabis products which are delivered with your other prescription items, like softgels and oils. Some Licensed Producers carry these great options for patients, so please speak with your educator to learn more. As one of the most in demand products, it's great to see companies and producers catering to the market and patients' needs. In accordance with Health Canada's regulations to keep cannabis away from youths, the gummies aren't in the typical worm or gummy bear shapes but still taste just as great. 
Cannabis Drinks & Beverages
Cannabis infused beverages have also been introduced to the array of medical cannabis products with a variety of sizes, strengths, and flavours offered by different LPs. This option of ingestion can be favoured by some patients and often replaces alcoholic beverages for some in social settings. Similar to the food-infused edibles, Health Canada only allows a maximum of 10mg of THC per drink, with many drinks being CBD only or a low dose of 2mg THC per drink. 
Currently, there is a variety of soda-based, fruit flavoured, and sparkling water beverages available for patients. These refreshing cannabis-infused drinks are easy-to-drink and ready-to-go with a consistent cannabis experience every time. The effects may be felt in as little as 30 minutes and some effects could last as long as 24 hours, so remember to always start low and go slow.  
Patients also have access to teas with small amounts of caffeine or caffeine free options, which come in a variety of flavours. Each resealable pouch comes with one or a few tea bags, and each LP offers different doses per teabag. Always read the packaging to know what you're taking and dose appropriately. It is suggested by most LPs to steep the tea for 3-5 minutes. These teas are infused with cannabis oil, CBD isolates or cannabis infused sugar in each bag.
Dissolvable powders are another alternative product available to patients that can be mixed with a beverage of your choice or sprinkled on food. These come in small individual packages of powder, similar to a sugar packet, that come in a variety of doses, up to 10mg THC, with CBD or a combination of CBD and THC products available. Some of the producers claim that these powders are fast-acting, with onset being faster compared to other cannabis edibles. They dissolve rapidly in your beverage and are not recommended for mixing with alcoholic beverages. 
Innovation has helped drive this new market and allows patients and consumers more options for how they choose to medicate.  
What to Know When Taking Edible Cannabis
While edibles are a safe way to medicate, it's important to always be aware and informed about what you are consuming. Edibles – similar to oils and gel capsules – are metabolized in your body. This means they take anywhere from 30 minutes to 2 hours to take effect, and can last anywhere up to 24 hours, as per Health Canada. One of our most important pieces of advice at Apollo is to start low and go slow. This means to consume a small amount at first and wait to feel the effects before taking more. This way you avoid over-medicating and potentially feeling unwanted side effects. THC tolerance isn't the same for smoking and edibles, and edibles are known to have a more intense effect at a lower dose. Be sure to follow your dosing guide from your Apollo educator, and please don't hesitate to ever call us if you have any questions about your prescription, dosing, and medication.
If you are new to using edibles, be sure to take them in a comfortable place such as your own home. Your edible cannabis products should be stored in a place that cannot be reached by any pets or children in your household and kept in their original child resistant packaging, which are capped at 10mg of THC per package/container. 
Cannabis Vape Pens, Cartridges & Pods
While traditional vaporizers for cannabis flower have been around for many years, including ones that are Health Canada approved medical devices, pre-filled cartridge vapes and pens are now available for medical cannabis patients. These convenient vapes are prefilled with distilled cannabis originating from flower and terpenes and require no setup. Similar to traditional vaporizers, these vapes are designed for inhalation, with rapid onset providing fast acting relief when a patient requires it, for conditions such as pain, PTSD, panic attacks, or even going back to sleep in the middle of the night.
When using a pre-filled vape, there are two components: the battery and the cartridge or cart. The most common connection is a 510 thread cartridge and is named so because of the thread width on the screw which attaches the battery and cart. 
There are also other pre-filled pods that require their own battery type, as well as all-in-one disposable pens that don't require anything more.
As more licensed producers begin creating their own lines and products, additional variations of batteries and cartridge sizes have been introduced; be sure to check what you need when ordering your battery and cartridge or pod.
Pre-Rolls 
Although Apollo's healthcare team doesn't recommend smoking, some patients prefer this method of consumption. Licensed producers are offering them as an accessible product for patients, especially for those with dexterity issues and need help.
Pre-rolls are available in THC, CBD, or a combination of the two. The gram size per joint varies between 0.3,0.5, and 1 gram, with the quantity in a package varying between products and LPs, usually with one to ten pre-rolls. 
Cannabis Creams & Topicals
Balms, lotions, lubes, creams…however you say it, these cannabis infused topicals have made their way into the tool belt of medical cannabis patients. More research is needed around topicals, but as they have been infused with cannabis, they are often reported to help with localized pain, inflammation, and relieve related skin issues. Topicals typically do not enter the bloodstream and therefore do not cause intoxication or a feeling of being "high". Similar to other infused options, topicals have a limit of THC which is 1,000 mg per package. The other ingredients in the products themselves are similar to what you would find in non-infused products and are all Health Canada approved when purchased from a legal source.
(Source : https://apollocannabis.ca/blog/6-cannabis-products-you-didnt-know-could-buy-in-medical/)