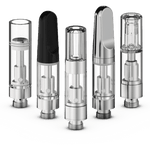 Vaporizers: An Updated Guide
How it Works: Vaporizing Cannabis Concentrate
Cannabis concentrate is extracted from dried cannabis flower and when heated using a vaporizer battery, the cannabis concentrate is converted into vapor. When inhaled, cannabinoids like THC and CBD are rapidly absorbed into the bloodstream (Health Canada 2019a,b).
The onset of cannabis effects begins within seconds to minutes and up to 30 minutes to feel full effects (Health Canada 2019). Cannabis concentrates are high-potency and not recommended for first-time Cannabis users (Health Canada 2019b). Start low and go slow when vaporizing cannabis concentrate. Begin with 1-2 small inhales and wait at least 30 minutes before taking another inhale (Health Canada 2019b).
Patients should consult with their doctor to discuss the right dose.
Main Types of Vaporizers
Disposable or "All-In-One"
Battery + cartridge
Disposable or "All-In-One"
These are vaporizers that include the battery and cartridge containing cannabis concentrate all in one device. These cannot be refilled so once they are done, you simply throw them away. These are fantastic to try if you're new to vaping and we have great options to try on our e-commerce store.
Battery and Cartridges
The majority of vaporizers use a rechargeable battery and its cartridge system.
DIFFERENT TYPES OF BATTERY
The battery is the power supply to the cartridge, which is generally rechargeable.
The most popular battery on the market is the 510 battery (like the Aphria Palm 510), which is used with a 510 cartridge (such as the Aphria Aspen 510 cartridge). The 510 battery is compatible with any 510 cartridges.
There are batteries on the market that can be used only with their own pre-filled cartridges (ex: PAX ERA battery only works with PAX Pods).
There are vaporizers that can be used with dried flower OR concentrate (ex: PAX 3 battery).
HOW CARTRIDGES WORK
A cartridge contains the cannabis concentrate, as well as a ceramic heating element.
The ceramic heating element allows for even heat distribution, as well as a consistent volume of vapour; without the burnt taste.
Once the cannabis cartridge is applied to the battery you can begin to heat the device (some are automatic and some have personalized heat settings), which heats up the concentrate and turns it into a vapour that can be inhaled.
Once a cartridge is empty, simply throw away and replace with a new cartridge (most 0.5g cartridges last between 100-200 inhales).
HOW TO USE THE BATTERY + VAPORIZER
Whatever battery you use, be sure to get the right cartridge: Ex: 510 cartridge for a 510 threaded battery, PAX Pod for a PAX ERA.
Cartridge and batteries are 510 universal; meaning that they are compatible with any other cartridge or battery that is 510 threaded.
To use the vaporizer, screw the cartridge into the magnetic adapter and place it gently into the Battery. Once placed, the vaporizer is ready to be used
Turn on the battery if needed (see instructions that came with your battery) and once heated, inhale through the mouthpiece.
Helpful Tips for Those New to Vaporizing
Here are some tips to help you get the most out of your vaporizing experience:
Always store your vaporizer at room temperature and in an upright position
Avoid subjecting your vaporizer to large and sudden shifts in temperature and/or atmospheric pressure
Not recommended for first-time cannabis users
Avoid rapid consecutive use of your vaporizer
Handle your vaporizer with care
Go low and start slow
Risk Associated with Vaporizing Cannabis Concentrate
The risks associated with vaping a cannabis concentrate extract could include rapid heart rate, dizziness, varying levels of anxiety, disorganized thoughts, memory loss, nausea, or vomiting. Some individuals have reported more serious adverse effects such as abnormal behaviour, hallucinations, loss of touch with reality, delusions, and seizures.  Some individuals have been hospitalized as a result of complications following the use of vaping products and have developed product use associated pulmonary illness or injury, which has been associated with but not directly linked to certain cases of death
Vaping devices should only be used as specifically instructed by the company on the packaging and associated product information or product insert prepared and provided by the company
Never attempt to modify any part of the vaping device, cartridge or battery or add any substances to such products as this may result in increased health risks and unpredictable adverse reactions including severe pulmonary illness
Disclaimer: This information should not be considered legal or medical advice. Patients and healthcare practitioners are encouraged to report side effects from cannabis products to 1 (844) 427-4742 and the Canada Vigilance Program.
References
Health Canada (2019a) Talking with your teen about vaping. Electronic document,

 

https://www.canada.ca/content/dam/themes/health/publications/healthy-living/vaping-mechanics-infographic/Parent%20tip%20sheet_web_Final_EN.pdf, accessed December 2019.
Health Canada (2019b) What you need to know if you consume cannabis. Electronic document,

 

https://www.canada.ca/en/health-canada/services/drugs-medication/cannabis/resources/what-you-need-to-know-if-you-choose-to-consume-cannabis.html, accessed December 2019.
https://aphria.ca/blog/vaporizing-cannabis-concentrate/